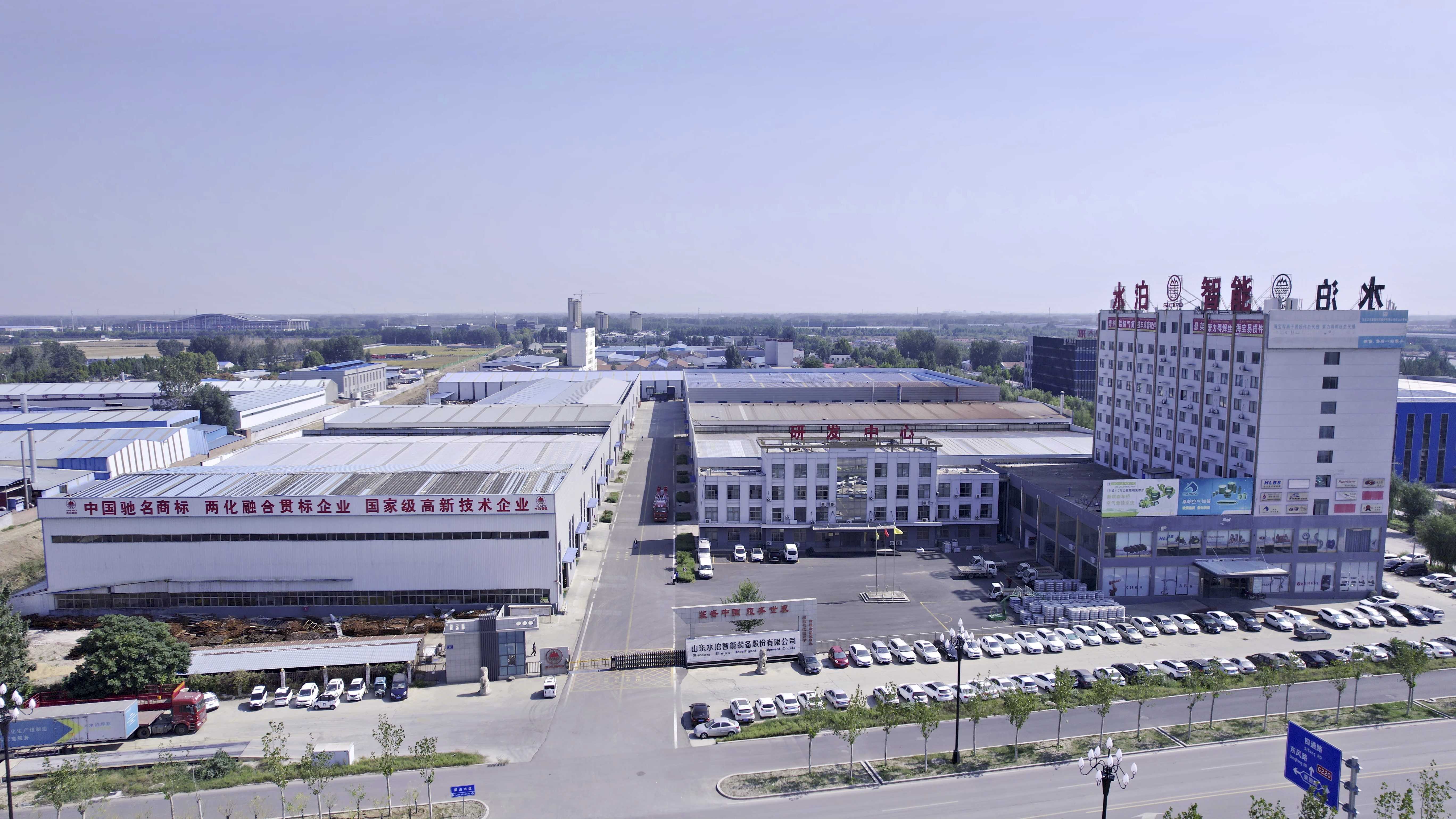 SHANDONG SHUIPO INTELLIGENT EQUIPMENT CO., LTD.
Company Profile
Shandong Shuipo Intelligent Equipment Co., Ltd. founded in May 2004, is located in Liangshan Marsh, the place in which the well-know story of Water Margin or Outlaws of the Marsh was set. It faces the Jinan-Heze Highway on the east and the Beijing-Jiulong Railway on the west, and the national highway 220 that threads China from south to north passes before our company. The convenient traffic lends wings to the rapid development of the company. It has a registered capital of RMB 50 million, and covers an area of 100mu, in which production plants cover the area of 28,000 k㎡. Among its over 400 employees, there are 78 engineering technical personnel. Its total assets reached RMB 190 million in 2013, and its annual production capacity is RMB 300 million.
The company mainly specializes in the research, development and manufacture of special-purpose vehicle welding equipment, and offers special welding equipment for the vehicle refitting, engineering machinery and steel structures. It has the ability to design complete plants solutions according to customers' product features. The company has developed 96 kinds of welding and cutting equipment in 28 series, including an automatic welding machine for annular seam in specially shaped tank, automatic welding machine for corrugated plate with automatic laser tracking technology, automatic welding machine for dumper carriage plate with laser scanning technology, automatic welding machine for double-side formation with one-side welding in specially shaped tanks, intelligent flanging machine, large CNC spinning lathe, auxiliary tester for vehicle industry, gantry stringer welding machine and CNC cutters. Its products are used by more than 900 special-purpose vehicle manufactures in China, including FAW (First Auto Work), Dongfeng Automobile Co., Ltd. and CIMC, and some are even sold to over 40 countries and regions, such as Germany, Russia, the US, and Brazil. These products are highly praised by customers both at home and abroad. It has now taken up above 70% of the market share in the domestic special welding and cutting equipment market.
Several products independently developed by the company, such as the non-template shaped end socket flanging machine has won it the Shandong Provincial Prize for Science and Technological Progress, and Shandong Patent Awards; the automated large tank production line project independently developed by the company has been listed in the national and provincial Innovation Fund for Technology-based Small and Mid-sized Firms in 2009 and passed the research achievement appraisal and project acceptance by the Department of Science & Technology of Shandong Province, and won the title of Shandong's first complete set of technologies and equipment in the major fields in 2012; the complete set of equipment for automated production line of dumpers it independently developed won the title of Shandong's first complete set of technologies and equipment in the major fields in 2013; in 2013, the newly developed CNC carriage plate and three other products passed the assessment and acceptance by experts, and were listed as the provincial new products by Shandong Economic and Information Technology Committee.
As of December 25,2020,the company now has obtained 89 national patents, among which, there are 32 invention patents, 56 utility patents, and it undertook 16 state-level and provincial-level research projects. It has established the Shandong Enterprise Technology Center, Shandong Special-purpose Vehicle Equipment Engineering and Technological Research Center, and set up the "Industrial Robot Academician Workstation" with Academician Cai Hegao of Chinese Academy of Engineering as the Chief Scientist. The company also won the honorary titles of National Hi-tech Enterprise, Chinese Patent Star Enterprise in Shandong Province, Innovative Enterprise in Shandong Province, IPR pilot institution in Shandong, Model Enterprise in Energy-saving and Environmental protection industry in Shandong, as well as the Shandong Province's Brand-name Products and Shandong Province's Well-known Trademarks. Moreover, it has become a member of the China Electrical Equipment Industry Association, and a member of the China Special-purpose Vehicle Association, and it is currently the most professional enterprise with the highest technical content in China's special-purpose vehicle manufacturing equipment industry.