Product Details / 产品介绍
Across the globe, more and more automated guided vehicles (AGVs) are replacing manual work in, for example, warehouses and factories. WEWO Techmotion specialises in automated guided vehicles (AGVs) that are used for moving materials and products in various environments. Our automated guided vehicles are, therefore, designed to optimise your internal logistics. Our solutions thus seamlessly integrate with the lean manufacturing principle and technology 4.0.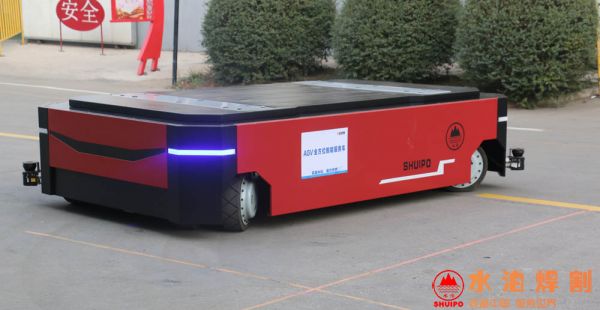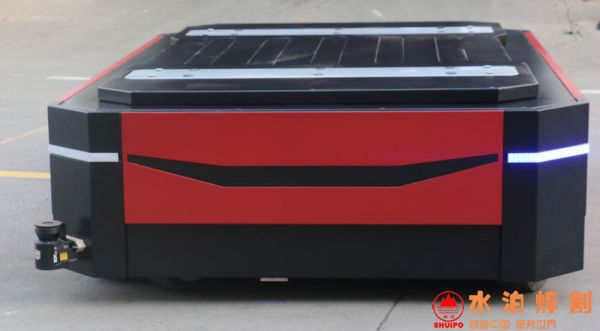 SHUIPO Independent research and development AGV car
SHUIPO omni-directional AGV servicer,servo drive PLC control to realize accurate positioning, accurate arrival, instant brake, realize transverse, longitudinal walk, walking 90 ° 360 °, 180 ° rotation, in situ rotation, flexible S action.
SHUIPO AGV performance: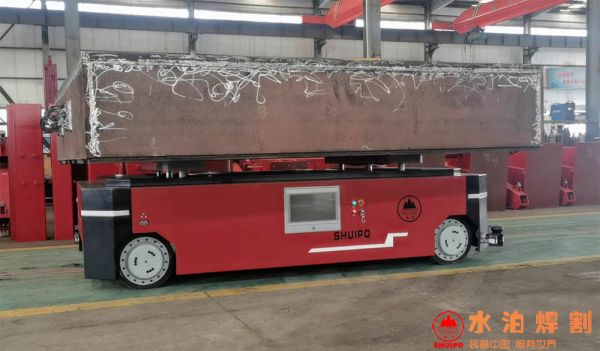 1st、This product belongs to the heavy AGV, his standard capacity can reach dozens of tons.
2nd、Battery, the standard battery life can be up to 6-7 hours, the working life can be up to 5 hours; 2-3 hours, charging range 6 to 7 hours.
3rd、The mechanical structure of AGV, unlike most of the AGV mechanical structure on the market, mainly adopts the RV precision retarding mechanism, on the AGV, greatly increasing his torque, in the case of overloading is still stable in action, can achieve the precise positioning effect.
4th、AGV can do 20 to 30 degrees of a climbing movement, in the case of overloading is still safe smooth, this action in the market, most of the AGV is rare, it is also an important characteristic of AGV.
5th、In the region of the space is narrow and complicated, AGV can do spin around, walking longitudinal and transverse walk, flexible operation.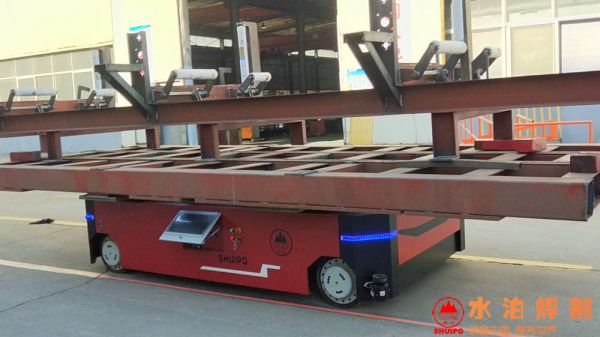 6th、We adopted imported laser technology on safety, including Germany, Japan, the United States and other related products, for users to choose, 8 meters long detection range, detection precision is controlled in 3 to 7 cm, security detection range area can switch at any time. Water margin welds shears the omni-directional AGV service implements the regional protection, when the object or person accident come into the danger zone, security scanners can prevent danger happening. These security scanner can for installation in a hidden way, in order to avoid damage or potential impact, while protecting the shape is simple or complex areas.
7th、AGV can be mounted on the fixture, lift platform, used to carry down artifacts and artifact to another location, better cooperate with automation equipment operation, greatly reduce the manual operation. Jig lift platform can accept customized.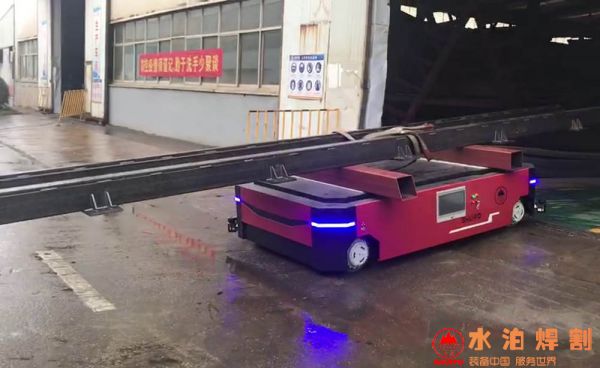 8th、We have magnetic navigation in navigation and cursor navigation two kinds big, here we do more selective for customers, provide a more reasonable scheme.